The sponsors below have made donations to our charity fund for the Library of Laos:


















"OUT OF THE PAIN AND ANGUISH OF THE PAST MAY WE FORGE THE KEYS TO NEW HORIZONS OF PEACE AND PROSPERITY BETWEEN THE LAO, VIETNAMESE, AND AMERICAN PEOPLES"
The objective of the Library of Vietnam and Library of Lao Projects is to create such keys, forged to open doors to cultural exchanges, international discourse, peace, understanding, cooperation, and economic development This is a people to people effort. The very all-encompassing nature of a library and learning center makes it the kind of humanitarian effort that allows free flight of fancy for ways to open each of these doors-limited only by our imaginations and hard work in making the keys.
That the generous hearts and practical minds of Americans and others around the globe will join in is not in question. They will if we show them something truly worthwhile to invest their hearts, passions, expertise, time and money in.

I. LIBRARY CONSTRUCTION PROJECT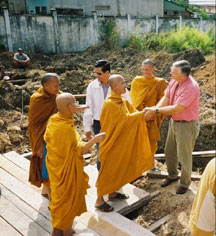 This is the central objective around which all else turns--to build library facilities and completely furnished, staff, and stock them -with books and computer capabilities The first library in Laos will be built in Pakse of Champassek Province. Each library is a flagship in the district of the province it serves, with small satellite library outlets and facilities to be built new or outfitted in existing structures and institutions These are LIBRARY AND LEARNING CENTER SYSTEMS to be built inch-by-inch, step by step.


II. LEARNING CENTER PROGRAMS

Development of usages of the Libraries as Learning Centers beyond the traditional book repository is the most significant part of our work With the advice and support of local officials, professional and trade people, businesses, companies, and citizens we continue to expand Library use through a aside army of services, seminars, training courses, presentations in cooperation with other educational providers, government agencies and cultural organizations.

III. ASSOCIATION WITH AND SUPPORT FOR INSTITUTIONS THROUGHOUT THE COUNTRIES

In the course of soliciting support for the construction, administration and development of the library systems, opportunities to work with other types of institutions will be encouraged and acted upon, to include working with colleges, universities, trade schools and professional schools, such as law and medicine. All require special types of library resources and expertise, and offer the possibility for international cooperation with donors in the USA . We will make the most of these chances to improve the futures of Vietnam and Laos .

IV. LIBRARY OF LAOS AND LIBRARY OF VIETNAM PROJECT VOLUNTEER TRAVEL PROGRAM"

This is an opportunity for Americans traveling to Laos to engage in meaningful projects. They will be introduced to and welcomed by Local officials, teachers, and citizens, at our library & the school officials at each institution with which these libraries are associated will arrange for travelers to participate in cultural and educational activities with students and People from the community. Mere contact with people from other cultures is treasured among the Lao.

V. LAO, VIETNAMESE, AND AMERICAN YOUTH CULTURAL EXCHANGE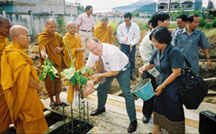 For students 12-19 years old, this includes the initiation of pen-pal program, and will add e-mail communications as technological capabilities expand through our efforts. Students sign up for this and are given an outline on ideas to write about. Also, suggestions on things to exchange will be in the student participation packet. Each American will develop a broad familiarity with Laos through completion of a brief list of readings, and seeing movies and news clips relating to Laos from the war years through 2003 by focusing on the counties' histories, traditions and cultures OUTSIDE the war experience.

VI. LIBRARY OF LAOS BOOK AND EQUIPMENT DRIVE

This is an ongoing Plan for solicitation of books, computers, and anything else in the inventory of a fully functioning fully equipped library and learning center. Books may be in Lao, Hmong, or English. Computer and other such equipment must meet industry international standards to insure the best possible results for the people using them.